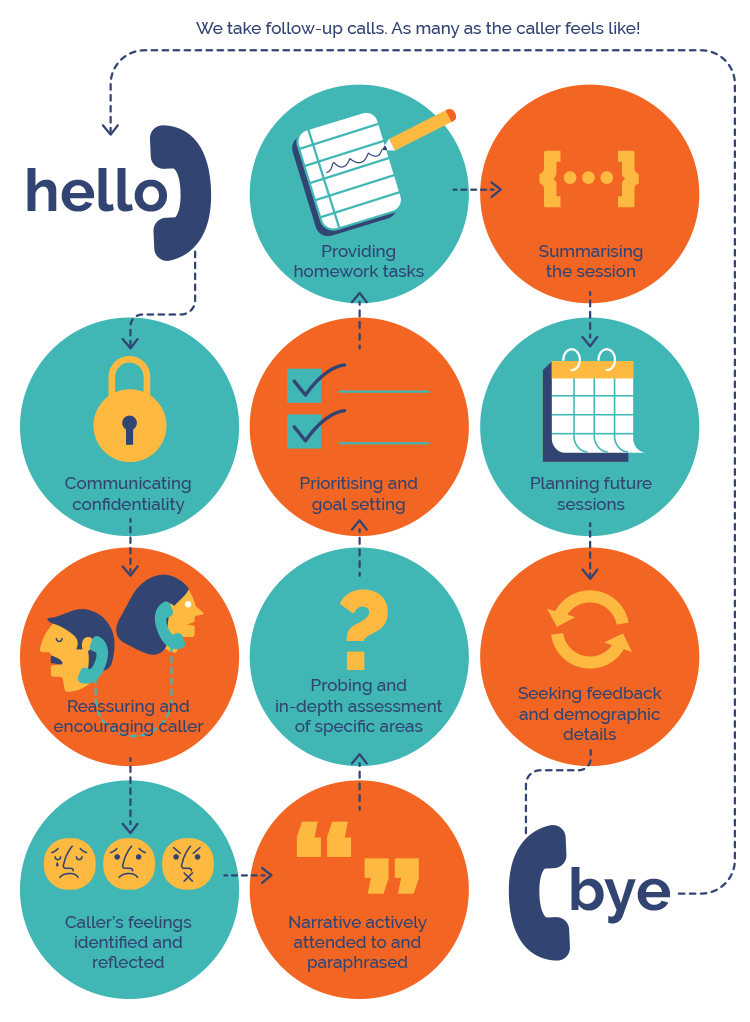 Telephone counseling offers the same services as face to face counseling except that it is conducted over the phone. In the past this medium was predominantly used for crisis intervention. However, in recent times there seems to be a much greater openness to this form of counseling even in non-crisis situations. Although, face to face counseling still remains the more popular form of counseling, telephone counseling offers certain advantages that can make it a more suitable option for some.
Unlike some helplines that are run by volunteers, iCALL is a free counseling helpline that is run by trained and qualified counselors. The service offers two-way anonymity, which means that the identities of both counselor and caller remain anonymous.
We understand that it is not easy to reach out and share your concerns with someone over the phone, especially when you are not familiar with them. We appreciate the effort it must have taken you to take this first step towards growth and progress and understand that there may be some apprehensions about sharing sensitive information and whether it is safe to do so.
It is for this very reason, that our counselors take their time to explain the helpline's policy of confidentiality at iCALL, when you first connect with us. The effectiveness of the counseling process depends heavily on the trust that exists between the counselor and the caller. Any information you share remains completely confidential between you and the counselors at iCALL, except for when there is a risk of harm to yourself or to others.
The counseling process, is a gradual one which entails an in depth conversation with a counselor who will take their time to fully understand your concern. Though the process of counseling is not a quick one you are assured of our continued support and care through the process.
Counseling is a collaborative activity. Therefore, your role is crucial in identifying and understanding the problem, and finding solutions to overcome them. Depending on your specific concern and the extent of distress you are experiencing as a result, our counsellors will then tap in to their training to teach you certain skills and techniques to help you manage your distress better.
During the process, suggestions or assignments or tasks may be made in an effort to enable you to move towards a solution. The tasks may involve activities to help with introspection, reflection, prioritization, or goal setting, with the intention of moving constantly towards achieving the identified goals.
As the sessions progress, the counselors keep a detailed account of how you are doing and will spend some time with you in planning the course of future sessions. Once the desired goal is achieved, the process of counseling may end for the time. However, it may be resumed at any point depending on your need for it.
ICALL endeavours to provide a high-quality service which is ethical and professional; and utmost care will be taken to ensure that your experience is a pleasant one. Picking up the phone and giving us a call can therefore be the first step in process of helping yourself feel better.